The participants in the Premium Business Program benefit from a great prelude to Christmasworld 2015: Messe Frankfurt and the shop-ping center expert Rüdiger Pleus invite participants to get to know the diversity and distinctiveness of the Frankfurt shopping center scene on Thursday January 29, 2015.
"We're offering this tour through the consumption-heavy metropolis on the Main within the Premium Business Program for the first time. This is a perfect match with our exclusive speakers and networking offer on the following day," says Eva Olbrich, Head of Christmasworld, Messe Frankfurt Exhibition GmbH. The tour will visit the experience worlds of Skyline Plaza, the NorthWestZentrum, and the multi-brand center MyZeil. The program ends with a look behind the scenes of the most important order platform for the international festival decoration and jewelry industry.
It takes place from January 30 to February 3, 2015 in Frankfurt's exhibition halls 8.0, 9.0, 9.1, 9.2, and 11.0 and covers the entire range of seasonal decorations. Premium guests have the opportunity to experience the halls and the MK Illumination stand the evening before the fair opens.
BUSINESS PROGRAM PREMIUM ON JANUARY 30, 2015
The speakers and participants in the third Premium Business Program can discuss the opportunities awaiting retail with seasonal festive decorations on Friday, January 30. Top decision-makers for concept decorations in shopping centers, retail companies, municipalities, and urban areas, as well as operators of Christmas markets and theme parks, designers, and decorative agencies have all been invited.
The high-quality program was developed by Messe Frankfurt and the German Council of Shopping Centers. It offers more highlights, prominent speakers, and a stronger best-practice focus on successful decorations from shopping centers and city centers in 2015. Premium is supported by Globall Concept SPRL of Belgium, MAG Gorzelak i Jasinski Sp.J. of Poland, and MK Illumination Handels GmbH of Austria. The venue is the Portalhaus, Hall 11, Level via, Frequenz Room. The master of stagecraft, Bernhard Paul (founder and director of Roncalli), gives an insight into emotional worlds of experience that captivate every audience.
Two keynotes on the hot topics of "Innovation and digital transformation" will stimulate lively discussions. "Digital Darwinism – the silent attack on your business model and your brand!" is the provocative title of the speech by Karl-Heinz Land of neuland GmbH & Co. KG. Stephan Jung, Business Speaker and Chairman of the European Retail Innovation Committee, ICSC London, pleads for more bravery with regard to innovation in retail and cities. Additional presentations include that by Heiner Schote (Deputy Director, Hamburg Chamber of Commerce) and Markus Pfeffer (CEO, BID-Seltersweg e. V.): Best practices from Hamburg and Gießen under the title "Shaping the City."
Top decision makers from the area of concept decorations have until January 12, 2015 to register for free for the Premium Business Program (January 30) including the shop-ping center tour (January 29).
CHRISTMASWORLD TRENDS 2015
"Stories to be told" provides the thread running through the festive and seasonal decoration sector. Tender Poem, Mystic Ode, Weird Diary, Inventive Hymn – the new looks tell stories that touch the soul. "Stories to be told" – such is the emotive thread that runs through the colors and materials for next year's festive decorations. The trend bureau bora.herke.palmisano derives its highly reliable prognoses for the decoration sector as a whole from the latest trends in fashion, art, architecture, and furniture and product design.
"There is intense interest worldwide in key epochs, key artistic paradigms, and styles. We take these striking contemporary tendencies and apply them to the world of festive and seasonal decoration for Christmasworld," explains design expert Annetta Palmisano.
The four style scenarios of the Christmasworld trends for 2015/16 go by the names of Tender Poem, Mystic Ode, Weird Diary, and Inventive Hymn. Individual heritage, meaning, and personal relevance become the central elements of design. For manufacturers, this new leitmotif gives cause to involve their individual company's philosophy. For the wholesalers and end retailers at the point of sale, the task of "telling stories" becomes extremely easy for any and all of the seasonal festivals of the year when using the decorative products from Christmasworld exhibitors. Various ways in which the trade can excite its customers with new decorative trends, particularly for the Advent and Christmas periods of 2015, will be the subject of the Trend Show from January 30 to February 3, 2015 in Frankfurt am Main in Galleria 1.
Tender Poem – nostalgic mementos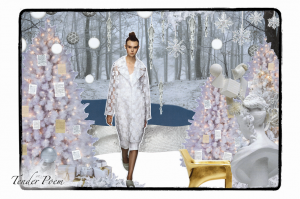 Impressionism is the source of inspiration for the poetic notes in this style, which is both contemporary and feminine. Warm flesh tones, white, dove blue, and gradations of light gray emphasize the sketch-like nature of a living ambiance. Silver and gold touches add modern accents. Romantic gardens, sketched natural still lifes, hand-written letters, yellowed paper, clef symbols, feathers, and blossoms appear as mementos of almost forgotten times.
Mystic Ode – passionate and dramatic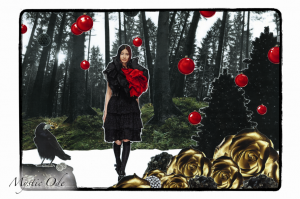 With its roots in the literary period of Romanticism, fairy-tales, fantasy, and poetry unite in a magical and secretive decorative style. A color palette ranging from black, basalt grey, and dark petrol to dark brown dominates the background, set off against warm gold and temperamental red.
Weird Diary – independent and audacious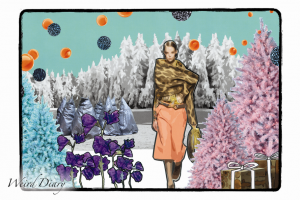 "Anything other than run of the mill!" Inspired by trends in contemporary art, from abstract to street art, the wit and individuality of this decorative style takes us by surprise. Typical of the style are the un-usual color combinations from a palette of fresh orange, creamy nougat, delicate pink, cool mint, and dark purple. Neutral tones, such as anthracite and a light flannel gray mitigate the unusual intensity of color.
Inventive Hymn – elegant and skillful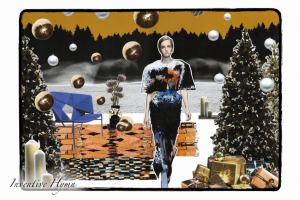 The young avant-garde design focuse on traditional materials, shapes, craft techniques, and manufacturing processes, both from their own heritage and from foreign cultures. The style scenario identified as "Inventive Hymn" offers a sophisticated mix of traditional and modern features. It provides surprising tactile experiences — accompanied by a naturally subdued color palette of wool white, sisal, slate, barolo, petrol,mustard, and gray-green.
PREMIUM BUSINESS PROGRAM AT CHRISTMASWORLD
Innovative urban design is also a topic for the Premium Business Program at Christmasworld (January 30 to February 3, 2015) in Frankfurt. The exclusive networking and lecture program will be held on January 30, 2015. It is aimed at top international decision makers for the procurement of indoor and outdoor decorations in shopping centers, commercial enterprises, and municipalities, as well as at innovative designers and decoration agencies. The agenda includes best practice examples and discussions with well known industry experts on current trends and opportunities in the market for the "soft, emotional factor" that is decoration. Registration has been open since September.