Sachsen-Allee is an ECE center in Chemnitz. The city sees itself as the gateway to the Ore Mountains. Ore mountain Christmas decorations can be found everywhere in this area. First Christmas's designers are plumping for grandeur. Chief designer Jule Beck: "For us, it was immediately clear: We need to dramatize the air!" This was done with angels, nut crackers, and incense smokers. Puppet theater workshops reworked the carefully selected, approximately 180-centimeter-tall figures. Lighting effects and movement breathed life into Sachsen-Allee's newest residents.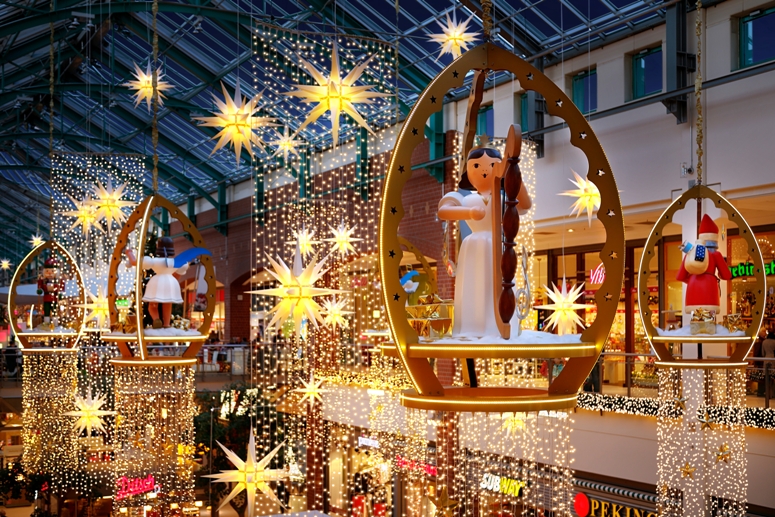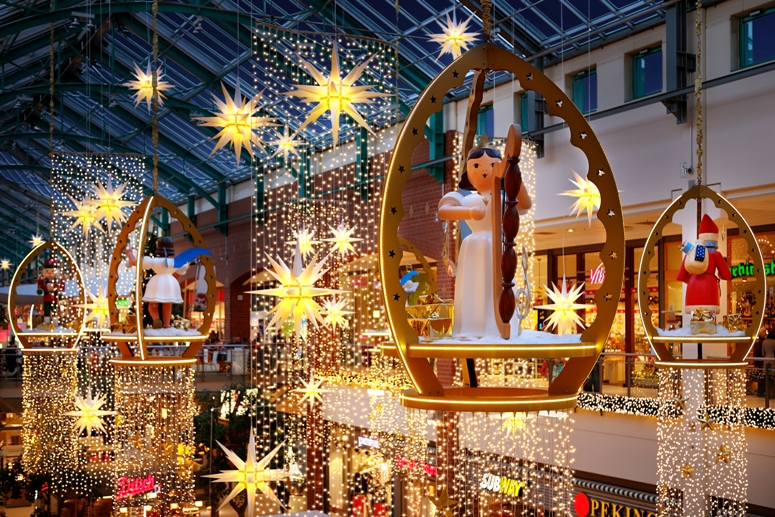 Höfe am Brühl is an mfi center in downtown Leipzig. Its branding: a mall for the Apple-generation and high-income visitors to Leipzig. An adequate solution had to be found. "Christmas decorations from the catalog are something like discount architecture. No center does this and it would be about as exciting as a knife next to a fork," says First Christmas's owner Kersten Rosenau. For Höfe am Brühl's target group, it was immediately clear: Here we need XXL, "Wow" decorations that customers marvel at. First Christmas's designers visited the center, whose atria are themed "Nature," "Fashion," and "Media." For the Nature-atrium, with its great wall of plants, they created giant pine cones to go with the ice crystals that stood out from the water wall. The fashion atrium was decorated with the largest necklace in the world. A computerized star show was projected in the Media atrium.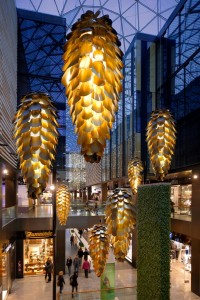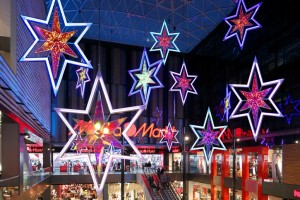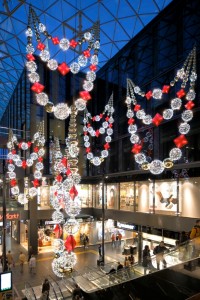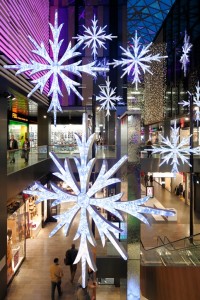 For many, Westfield London is an icon in the European shopping center landscape. The makers of First Christmas are thus proud also to have set the standards there with their Christmas decorations. The design team saw "Giant Trees" in the massive steel girders in the Center Hall. This led to the quick hatching of an idea to complement these supports with tree branches covered in millions of tiny LEDs, thus creating the largest forest of light in Europe.