Centers are supposed to be the stage for quite a lot of emotion, after all. "These emotions," says First Christmas founder Kersten Rosenau, "are the most important. Our centers must be highly emotional places because e-commerce cannot compete with that!" What thrills some, leaves other cold, however. First Christmas therefore relies on accurate analysis and ample creativity. A matter of opinions and action.
CASE STUDY 1 – HÖFE AM BRÜHL (LEIPZIG/GERMANY)
Branding:
A center for young urban professionals and more affluent tourists. Architecture: ultra modern, futuristic. Four courtyards, two named "essential feeling" (one with a wall of plants, the other with a water wall), one fashion, one media.
The Christmas Design from First Christmas:
XXL New York style, minimalist, classy, and impressive. A different decoration for each courtyard. In the "essential feeling" courtyard with the giant wall of plants shone the largest pine cones in the world. In the courtyard with the water wall hung enormous, impressive ice crystals. The largest necklaces in the world hung in the fashion courtyard. All these designs were developed specially for the customer. Last but not least, the media courtyard was fitted with an incredible, computer-animated light show displayed on 12 gigantic stars.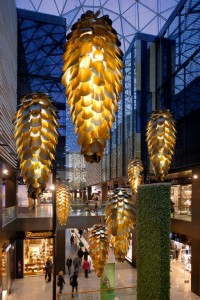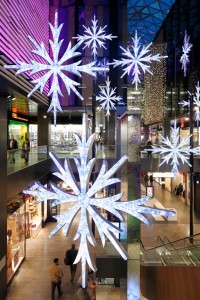 IMAGES: FIRST CHRISTMAS
The result:
Local TV and radio stations, local newspapers, and even the highest circulating newspaper in Europe –the Bild-Zeitung – reported on the amazing decoration. The decoration really was the talk of the town. A brilliant reinforcement of the center's positioning!
CASE STUDY 2 – PAUNSDORF CENTER (LEIPZIG/GERMANY)
Branding:
Typical family shopping center. Architecture: long corridors with little or no space for decorations, but with an enormous high-ceilinged courtyard.
The Christmas design from First Christmas:
a decoration for the entire family on the scale of a Disneyland attraction, a dream world for big and small alike. They created the world's largest elf tree house, where some of the visitors felt they had gone back in time to Christmas at Tolkien's Middle-earth.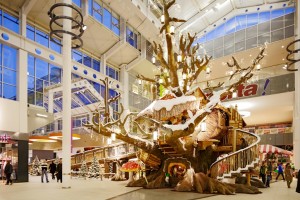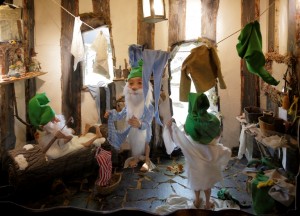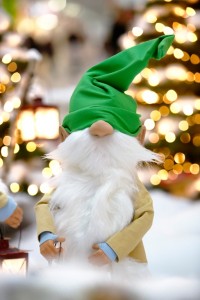 IMAGES: FIRST CHRISTMAS
The result:
Tens of thousands of children were delighted and came back time and time again with parents, grandparents, or neighbors. They wanted to see the elves again and again. The directors of the center's owner came, too, and saw the amazing success with their own eyes and decided to leave the tree house standing until Easter. First Christmas had not just created a decoration, but a recreation center.