By Walter Seib
As we are a large company, one might assume that we tend to lose touch with local markets. Indeed, the opposite is true for us at HMSHost International. We are closely connected to the countries in which we operate, and we follow both global and local consumer and food trends meticulously. As overseers of the bigger picture, we have found a way to be a leading global operator that provides local relevance for our guests. Together with our business partners, we develop the perfect mix of international appeal, local relevance, and bespoke F&B concepts.
Amsterdam Airport Schiphol, for example, is an airport with a typical Dutch touch and marks the beginning of our activities more than 50 years ago. Mieke Verduijn, a developer at Schiphol Airport, explains: "It is important to us that passengers experience Dutch culture and mentality immediately upon arrival at Schiphol. It is what we refer to as the 'sense of place'. Many passengers want to feel as though they have landed in the Netherlands, rather than in the UK or France. This works in two directions. When Dutch people return from their travels, they are happy to be at Schiphol as it feels like coming home." Furthermore, surveys have shown that it is not just local passengers who enjoy Schiphol's familiarity. "International passengers also indicate that they appreciate being able to experience – taste, see, smell – something typical of the country they are in." To that end, what is more perfect than indulging in the local cuisine?
Trend: a taste of homegrown cuisine
In 2018, the Foresight Factory, a leading platform for Global Consumer Trends, conducted a quantitative online study about local airport restaurants.The results demonstrated that food has become an integral part of the travel experience. This is reflected in the recent rise of food tourism. In the same vein, passengers' expectations of the culinary offerings available at airports have grown. Brands are catering to this growing appetite by bringing locally inflected culinary offerings to airports. Run-of-the-mill food halls are now being transformed into cultural dining spaces that reflect the unique flavors of each destination.
We have two takeaways regarding what will happen next: Firstly, airports will become places that offer dining experiences.Airports will not only serve as spaces for transit, but they will also provide dining experiences on their own. Consumers will be spoiled for choice when it comes to pre-flight dining options. Secondly, airport restaurants will become more unique. Food will be utilized to tell stories about the histories and cultures of the respective destinations. Sights and smells will create a multi-sensory narrative. At HMSHost, we have already begun to cater to this demand. Four examples of successful local concepts around the world are illustrated below:
Soup & Bakery by De Verspillingsfabriek, Schiphol Airport, Holland
In February 2019, Soup & Bakery by De Verspillingsfabriek, an award-winning joint initiative by HMSHost International, Royal Schiphol Group, and De Verspillingsfabriek, opened at Schiphol. According to De Verspillingsfabriek, at least €5 billion worth of food is thrown away every year in the Netherlands, even though most of it is still perfectly edible. At De Verspillingsfabriek (which means "The Surplus Food Factory"), any vegetable that is considered to be too small, the wrong shape, or the wrong color, including trimmings, cuttings, and stalks, are used to create delicious soups and savory snacks. Guests at the Schiphol outlet can sample a variety of soups, including the typical Dutch tomato soup or pea soup.
Bob Hutten, Director of De Verspillingsfabriek, explained: "This is an excellent example of how social, circular, and commercial enterprises can all join together. We need companies like HMSHost International to prove that there are viable alternatives to current practices. I truly hope that our zero-waste message will reach a lot of people."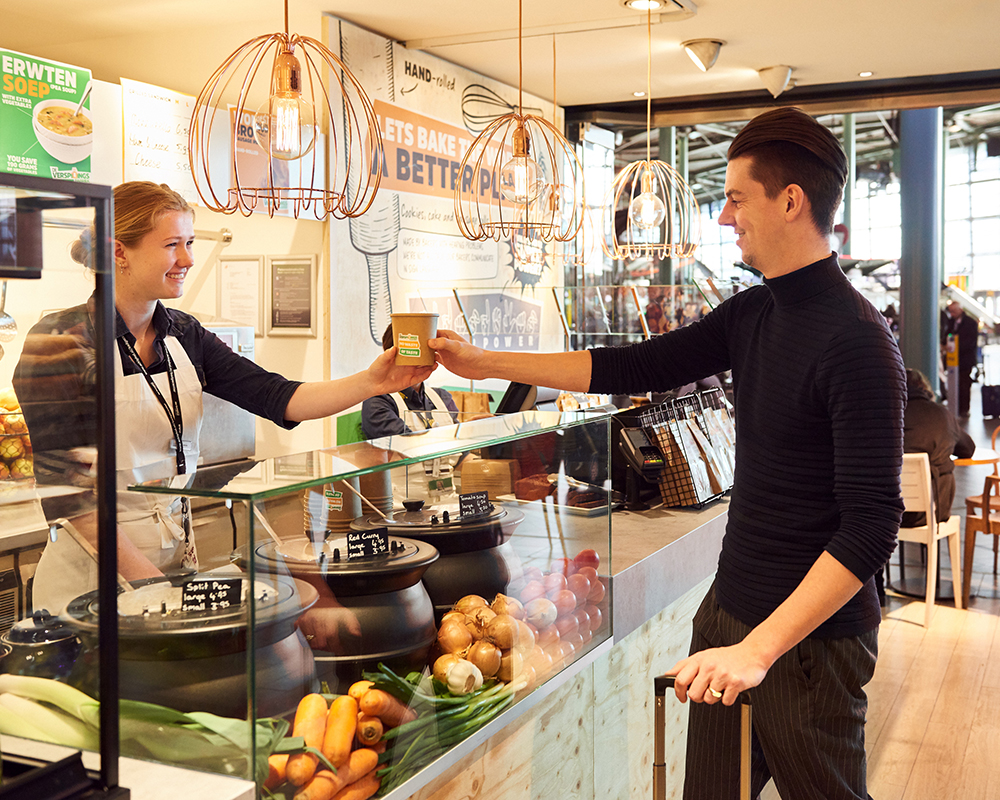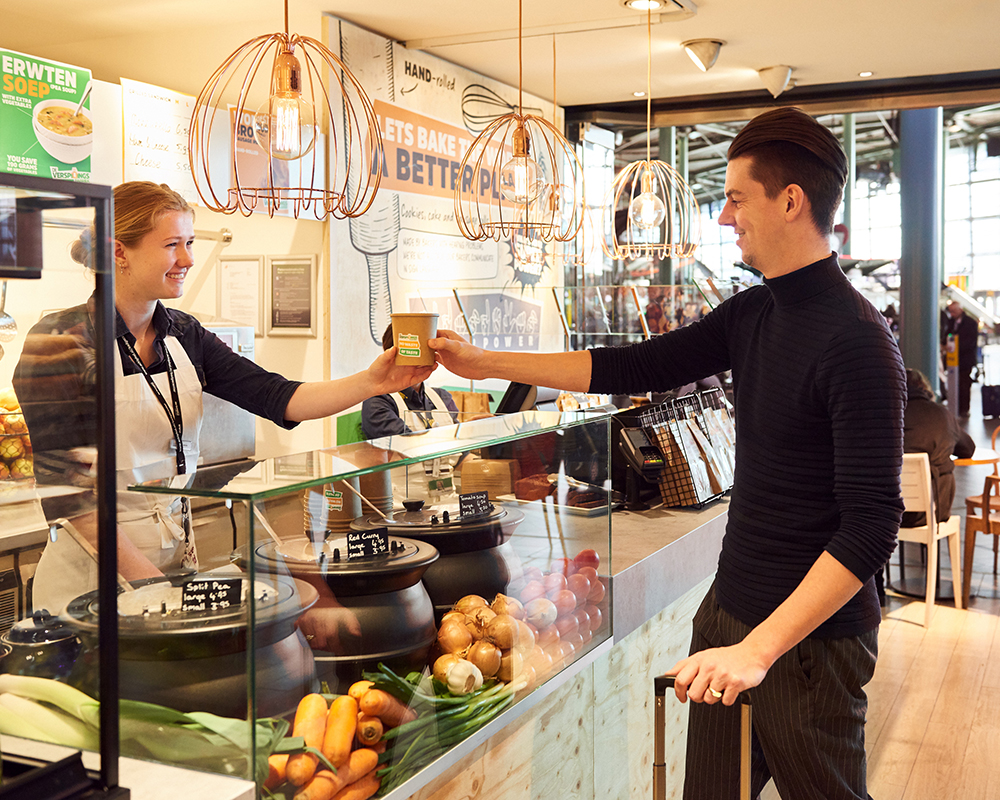 Oporto, Cairns Airport, Australia
The opening of the Oporto restaurant in September 2019 marked a new phase for the upgraded domestic terminal at Cairns Airport. We are proud to offer this local Aussie favorite at the airport and to introduce Oporto to all passengers and airport visitors in Tropical North Queensland.
Oporto offers an adventure of flavors to travelers and local guests in Cairns via its authentic Portuguese heritage and Australian-influenced fare. It is known for its unique fresh-not-frozen, grilled-not-fried, flame-grilled chicken as well as its burgers and wraps, served with its legendary original chili sauce. Oporto's much-loved Bondi burgers pay homage to the first Oporto restaurant at Bondi Beach in 1986. CEO of Oporto, Craig Tozer, said, "Partnering with HMSHost International, such a premium organization, is another step toward ensuring that we provide our customers with a premium experience."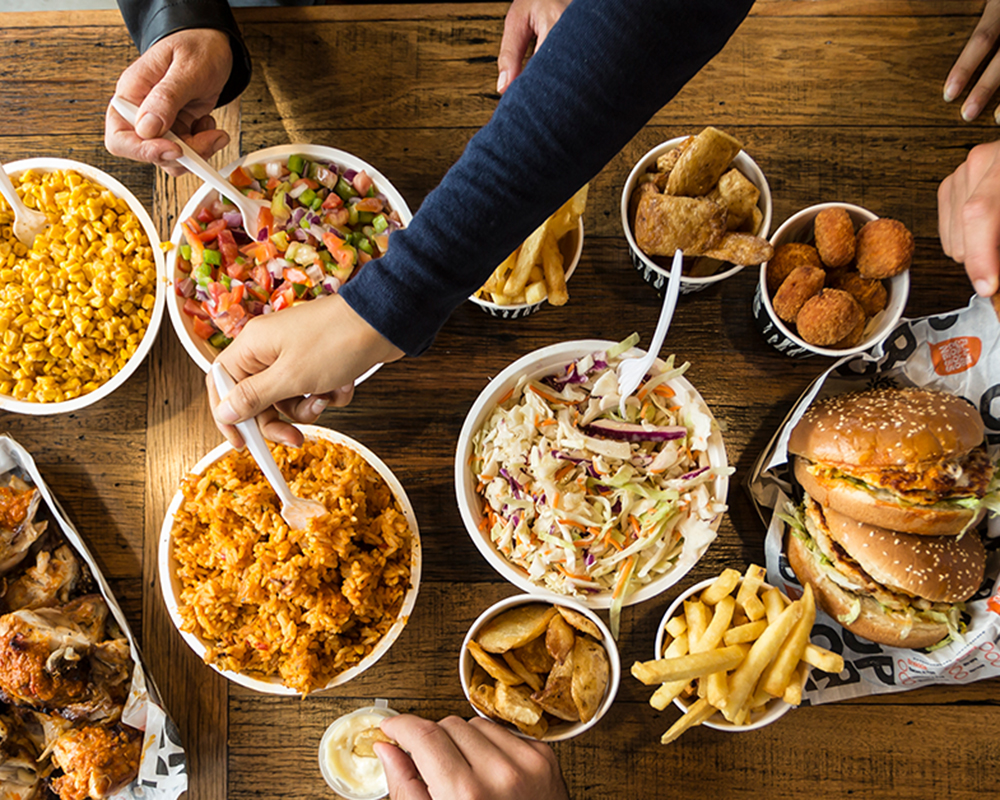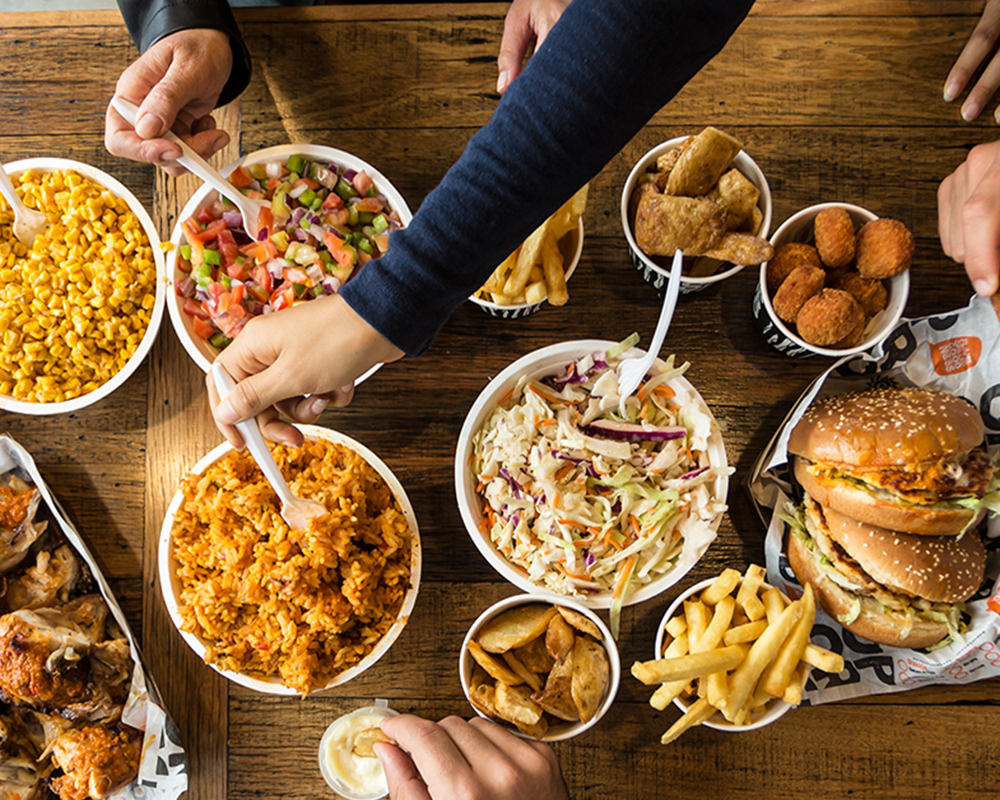 The Happy Pear, Dublin Airport, Ireland
Through the opening of local cult favorite The Happy Pear in August 2019, HMSHost International proudly introduced Dublin's inspiring health and happiness gurus to Dublin Airport.With an emphasis on local flavors, The Happy Pear boosts the Irish character at the Dublin Airport. Vegan and vegetarian dining options span the course of the day – available for breakfast, lunch, and dinner. The menu also features The Happy Pear's award-winning pesto and hummus products. The brand is founded on a philosophy of health, happiness, and community. In the same vein, the café will use fully compostable take-away food containers, cups, cutlery, and straws. Customers will be rewarded with incentives for bringing reusable cups, and surplus food will be donated to local charities through the food redistribution charity FoodCloud, while coffee grinds will be used by local gardeners.
"We would like to give a massive thanks to Dublin Airport and HMSHost International for the opportunity to partner on our fourth café," said The Happy Pear Co-founders, David and Stephen Flynn. "We are really looking forward to being front and center amongst some amazing Irish brands that are already at the airport," the brothers added. "Our new Dublin Airport café provides an amazing opportunity to encourage people to eat more fruit and vegetables and to make eating healthier, easier, and more accessible while on the move," they explained.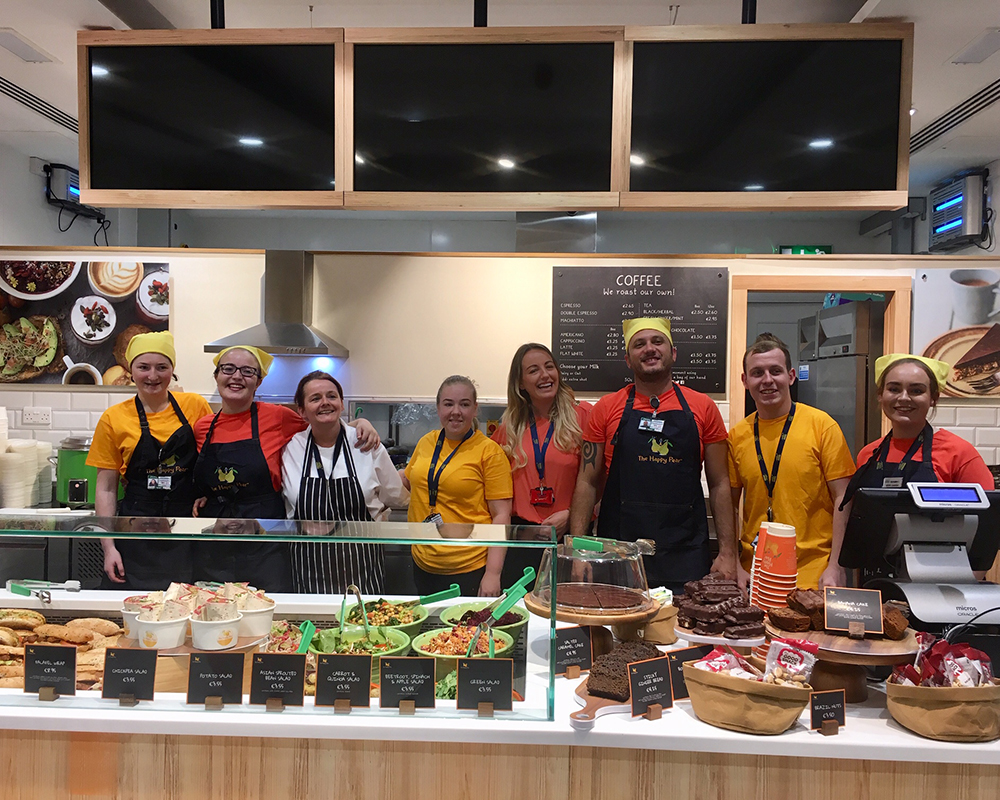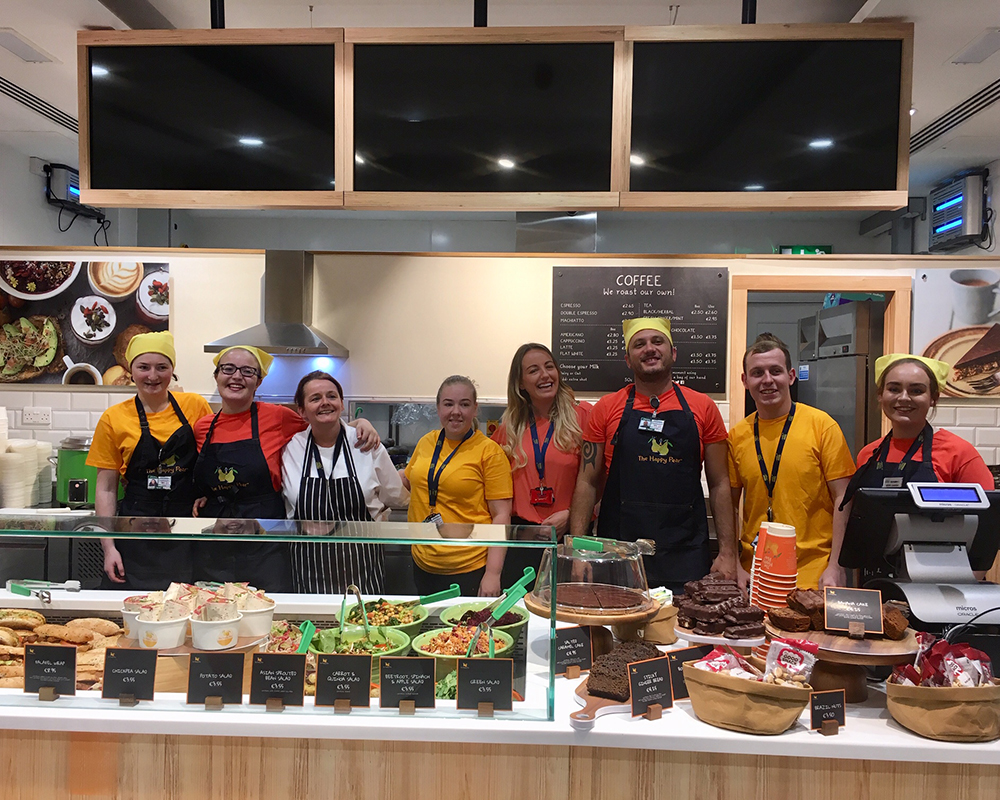 Mango Chili Thai Café, Bangalore Shopping Mall, India
Last summer, HMSHost opened the first Mango Chili Thai Café in Bengaluru. This vibrant new restaurant concept focuses on serving authentic Thai street food in a stylish and social setting. Indian diners are transported back to the bustling streets of Bangkok, with bright and bold interiors featuring modern artworks and fun décor, including a Thai tuk-tuk.
"Bangalore is a dynamic metropolis with a youthful population, and our new Thai street food concept will satisfy the growing Indian appetite for contemporary and convenient cuisine, especially among millennial diners. With its prime position on Whitefield Main Road and its high footfall, the Forum Shantiniketan Mall is the perfect setting for Mango Chili Bangalore, and we look forward to becoming the destination of choice for Bangalore's new generation of diners," said Trevor MacKenzie, Mango Tree's Global Managing Director.