Now that life and all its pleasures are slowly returning to normal, people want to resume their favorite activities after enduring difficult lockdown phases. One of the most popular destinations worldwide to spend some quality leisure time are shopping centers. The Slovak retail market is impressively exhibiting a strategy to shake off the falsely applied label of shopping centers being risky. They are setting an example through implementing future-proof components and incorporating all measures tailored to consumer demands to enable a top-notch experience for visitors.
It's booming! According to the 2021 JLL report covering Bratislava's key market statistics, the distribution of retail stock shares clearly underlines the opportunistic and future-proof investment characteristic of shopping centers. They occupy 64%, convoyed by retail parks with ca. 28% and retail galleries, department stores and concept stores composing the remaining 8% of shares. By the end of the first quarter of 2021, prime shopping center supply in Slovakia amounted up to 1.31 mil sq m with Bratislava at the forefront and followed by Kosice, Nitra and Zilina.
One remarkable market movement is the transaction deal between Unibail-Rodamco-Westfield (URW) and Wood & Company accompanied by their partner Tatra Asset management with the latter acquiring 60% of interest of Aupark Bratislava for a Total Acquisition Cost (TAC) of €450 Mn. The other 40% will be attained through pre-aged stakes within three consecutive years. This agreement also entails a three-year rent guarantee and earn-out-mechanisms, clearly influenced by the global pandemic. Nevertheless, investments are well-placed and future-oriented because the Slovak retail market is continuously expanding with 158,000 sq m currently under construction.
Attracting future consumers: multi-functional, diverse, green and massive
Two of the biggest projects substantially expanding Slovakia's retail market value and adding a tremendous joint 95,000 sq m to Bratislava's retail landscape are Nivy Mall (HB Reavis) and Eurovea (JTRE).
Originally scheduled to open in 2020 but postponed due to Covid-19, Nivy Station in Bratislava can complete its full transformation this year with a clear focus on expansion, variety, and enjoyment. Evolving from its former state as bus station with associated shopping mall and farmers' market, Nivy Mall spotlights the pleasure of a location combining leisure and business with brilliant key features. Absolute eye-catcher is the 12,000 sq m green roof reflecting the beautiful Slovak flora and offering a marvelous green experience with wonderful views, terraces, and playgrounds. Nivy Mall thereby follows the trend of offering a green experience to relax, take a break or take part in physical activities. Future visitors will be able to bring business and pleasure to the top of the building with incorporated docking stations supplying all devices for a workday in the sun and multiple areas for recreational activities.
What else do customers want? To spend several hours at their destination with the possibility to visit highly appealing and diverse layoff areas, enabling a high-quality concentration of everything desirable in one favorite place. Nivy Mall ensures this splendor with a new franchise restaurant, exceptional due to its unrivaled geometric design. Further complying with the current universal cautious sentiment, the establishment is equipped with the newest technology for seamless orders and 170 seats for spacious comfort. To expand their potential customer base from merely Nivy Mall visitors, an additional drive-through links the shopping center with Mlynske nivy street to offer the highest convenience.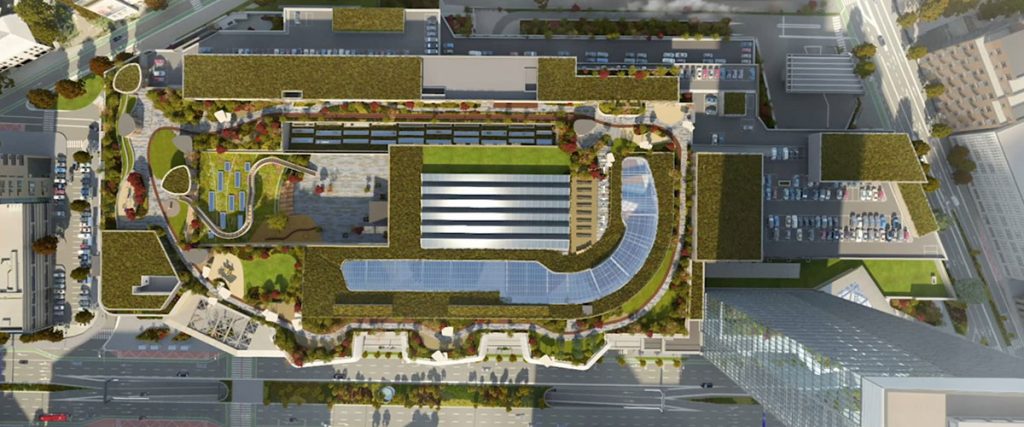 Slovak customers have high demands, thus a variety of brands is essential to cover every need, rounding up Nivy Malls complete package. The new tenants joining will be Springfield, Cortefiel, Women's secret (Tandem); Oysho, Zara Home (Inditex); Reserved (LPP); Martinus, a beloved coffee-bookstore concept covering the largest area of the Nivy project; and the leading e-commerce brand Alza from the Czech Republic.
Nature, Art and Shopping
Further carrying the ethos to highlight Slovakia's appeal is the no less impressive, mixed-use complex Eurovea, extending its new retail area with additional 25,000 sq m opening in 2022. This project draws inspiration from Slovakia's natural beauty, incorporating it into its buildings and facilities. Eurovea's exterior has been transformed by adding three underground floors and a completely new building, increasing the retail space significantly. Not just bigger, but better. With the expansion comes a redesign and transformation of the Eurovea shopping arcade, using natural recourses and greenery to update the look. Future visitors can enjoy the view of the extraordinary triangular glass roof, acting as connection to the new building parts.
Catering to a modern consumer with diverse demands and needs, this shopping center smartly applied multi-functional planning to encompass the allrounder package for ultimate customer pulling power. One of the most noteworthy tenants will be Primark, occupying a considerable amount of retail space and joining the diverse tenant mix with a remarkable gastro landscape. Strategically positioned at the riverside, many of the 30 gastro outlets possess a special allure with their beautiful scenery and well thought out, seasonal food item selection.
Core needs – buy & chill
Echoing the retail market's future-oriented reaction to the increased demand for convenience, Eurovea offers services for all needs. Be it grocery shopping, recreational activities or business matters, their vast premises cover core functions and relaxation areas. Visitors can see to their chores and get physically active in the 1,500 sq m sports area or take a relaxing stroll through 4,700 sq m of green spaces. The esteemed architect Beth Galí was responsible for the new activity park's design, divided into different zones according to age groups to ensure safety standards and contribute to a diverse area distribution.
As a result of the many challenges caused by the Covid-19 pandemic, many consumers were deprived of the possibility to visit shopping centers and consequently moved their purchasing activity to online shopping alternatives, immensely boosting e-commerce. This solution was necessary to ensure safety measures and is part of risk management but with the world stabilizing again, now is the time to remember the appeal of shopping with friends, grabbing a business lunch or spending an activity-filled day with your children – all in one place. It is all the more important to expand horizons, create unique projects, and offer multifunctional, mixed-use, and future-oriented areas to sustain shopper attraction.