BY MORITZ FELIX LÜCK
What is invisible and intangible, yet really exists, making one of two otherwise identical retail parks more valuable than the other? It is the brand. Brands are a wonderful phenomenon—basically nothing more than an idea, yet enormously powerful. Brands make it possible to obtain a higher price for the same performance as would come from an unbranded provider because a brand positively and sustainably differentiates one product or service from another from the perspective of the relevant target groups.
The theme of branding is now being discussed in relation to retail parks. This development is still in its early stages, however. A lot of questions remain: What do brands do and who benefits from them in what ways? How are the foundations for a brand laid and what is needed in daily operation to create a brand? How long does it take before a retail park becomes a brand? Who is involved in branding and brand management? This article deals with these and other topics.
Retail parks that are developed and managed as brands are more profitable than unbranded (no-name) centers. This is true with regard to investors and tenants alike. That's because consumers, whose turnover is the decisive factor for tenants, see added value in good, branded retail outlets. This has long been the case for retail parks and downtown shopping centers. For this article, "retail parks" include, in particular, those around 260 properties in Germany that have at least one large-scale food provider and at least two other large-scale non-food vendors on a total sales area of over 10,000 sq m that have any recognisable structural connection between them and a common parking lot.
Center brands are always B2C and B2B brands
It is in the best interests of investors and tenants that retail parks are developed and managed as brands. Retail parks are always inextricably interwoven B2C and B2B brands. This must be kept in mind, because tenants capitalise on the B2C aspects of center brands. Investors can only realise the added value in monetary terms that B2C center brands bring to tenants in the B2B context, however. A strong B2C brand allows investors to set higher prices for branded products in terms of rents and sales price for the property, for example. Only the B2B brand is effective for investors as far as pricing goes (see Chart). In an age of intensifying yield compression in transactions, established center brands are expressions, among other things, of the quality and stability of a retail park—when the brand is well managed.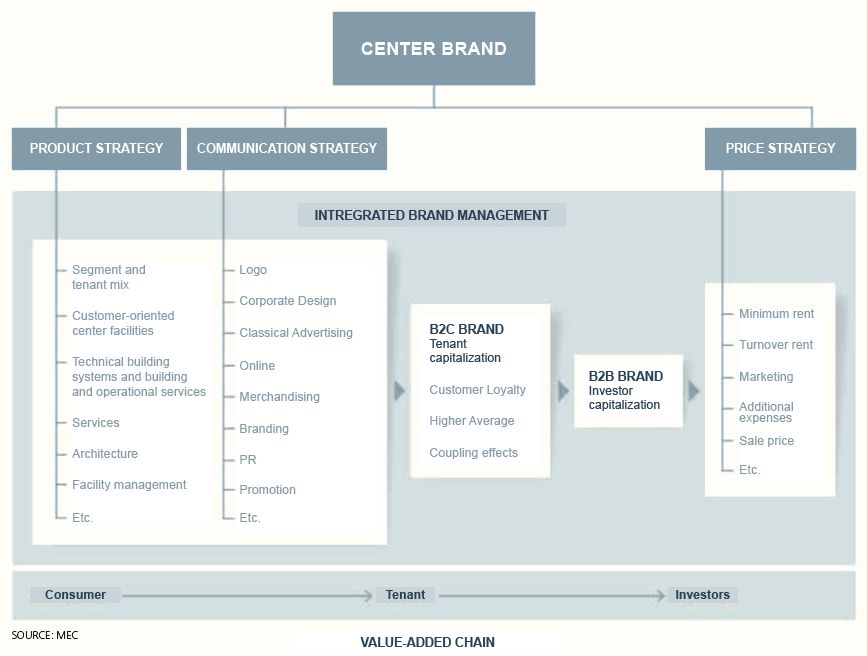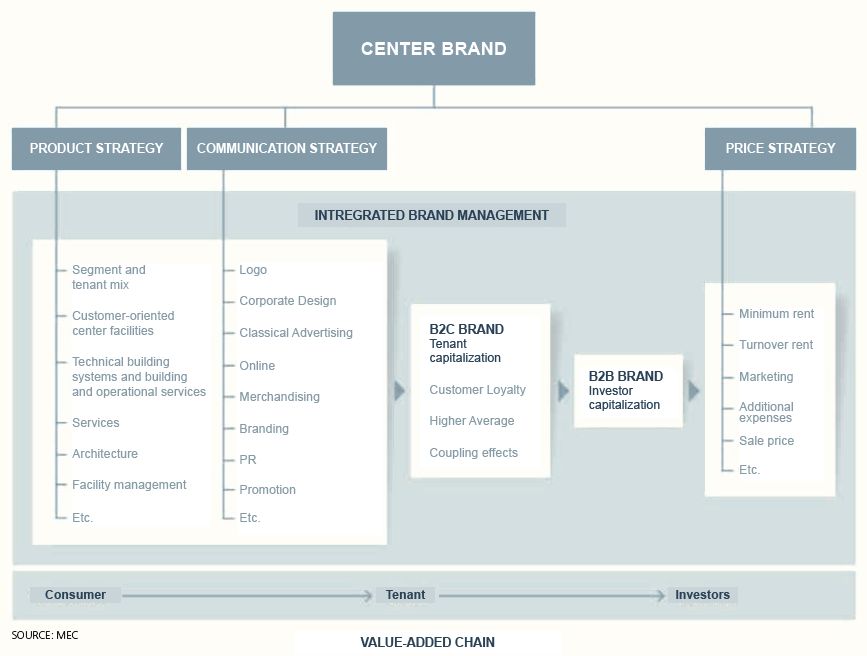 From the merchants' perspective, it is important that a retail park supports tenants in their own brand management. In addition, good retail parks ensure that tenants earn more revenue through coupling effects than they would at other sites. Next to generating customer loyalty, that is a retail park's most important task as a brand. Verifiably good sites are always attractive expansion targets. Conversely, many retail enterprises need to pay more attention to their brand management, (re) positioning, and profiling. Gone are the days when price was a (or the) differentiator for retailers. German food retailing provides a positive example of successful positioning and brand development. It has demonstrated in recent years how a whole trading segment can adapt to changing consumer demands. Other industries have yet to catch up.
The primary target group for center brands is consumers, who appreciate brands for many reasons. Brands make life easier for customers because they make decisions simpler and always provide consistently good quality. Someone who has found a reliable (retail park) brand does not decide anew where to go each time he wants go shopping. He feels vindicated in his decision with every purchase. In times of permanent pressure to make decisions, that is a real added value. Tenants, alongside the center operator and its service partners, have to boost the added value provided by a good, branded retail park from a consumer perspective and deliver it every day. "Good, branded" means that retail parks follow the laws of branding and must be managed accordingly. The essential factors for branding are:
A clear and consistently provided performance and value proposition tailored to the needs of clearly defined target groups
A recognisable sender
Integrated management of all the factors that affect the target group's image of the brand (Brand Management)
Time, because brand development is a long-term undertaking
A legal trademark (logo)
Laying the brand foundation
The foundation for a center brand is mainly laid through three factors: obtaining deep knowledge of the target groups you want to reach, recognising the need gaps in the retail park's competitive environment, and injecting all these aspects into a competitive product "retail park" that is focused on its target groups. Consumers and their needs are the alpha and omega of a shopping center as a brand. The central requirement for branding and brand management is accurately and comprehensively segmenting a retail park's target groups. If you don't know exactly who you want to reach and what those audiences want from the retail park product, you can never establish a brand. Comprehensive segmentation means delving intensively into the lifestyles, attitudes, and motivations of your target groups. Without such psychographic analyses of target group milieus, it is impossible to form usable target group segments. Socio-demographic data alone have long been insufficient. They complement the psychographic data, not vice versa.
An in-depth analysis of the retail park's relevant competition is necessary to identify a demand-oriented USP appropriate to your audience. Who is considered the relevant competition depends on the individual center. The important thing is to be guided by your audiences' needs. Filling gaps left open by competitors is unhelpful if these gaps are not important for your target groups. A (constructed) example: If none of a retail park's competitors has a health food store, you could indeed differentiate your center from the competition by having one. But since most of a retail park's typical customers are price-oriented shoppers, your target groups would normally fail to see a health food store as a USP. Segment and tenant mixes are not the only ways to establish USPs, however. It is therefore important to analyse all aspects of the competition, compare them to your location, and identify important gaps.
Product policy is a core issue when it comes to branding. Structurally, retail parks are products like any other. They are complex products, however, that also have to satisfy the requirements of B2B and B2C activities. The center's product and performance characteristics must be defined based on the analysis of the target groups and competition. This covers elements such as the segment and tenant mix, center facilities, the building's technical equipment and operating technology, branding, signposting systems, and more. This results in a very, very long list that must then be worked through.
The tenants inhabit a dual role. They are service providers in the B2C context (for the target consumer groups) and paying B2B customers (for the investor and operator). Tenants' requirements must therefore be taken into account in all aspects of the product and value proposition. Retailers need a strong retail park brand so that they can earn more revenue, for example through higher frequencies and coupling effects (the B2C aspect). Meanwhile, many technical and structural demands arise from their role as customers (B2B). Retail parks that can respond quickly and cost-effectively to retailers' changing requirements for space therefore have a real competitive advantage and are more attractive to retailers. Thus, adaptability can turn into a distinctive B2B brand feature.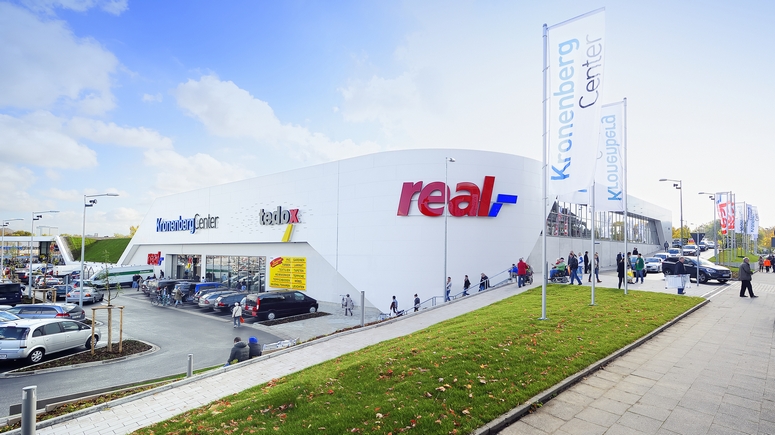 Integrated brand management in daily operation
Just having a customer- and demand-oriented center does not make a retail park a brand, even if it has a trademarked name and a logo in the legal sense. Brands as ideas that guide the actions of customers arise only through long-term and diligent work. Brands are the result of a variety of integrated measures, and customer experiences based on them, carried out over a long period. Brand management is the concerted and interdisciplinary planning, orchestrating, transferring, and monitoring of these measures. A major factor that leads to failure in brand management is the lack of genuine interdisciplinary work. A strong brand cannot be established if center management, rental management, marketing, and technical and commercial property management do not manage a retail park as a brand in the same team and instead each work more for themselves and according to their own logic. The full power of a brand can only unfold by overcoming these separate logics with a common and overarching brand consciousness. But there are other actors that impact customers' brand experience, as well.
As already mentioned, tenants, like operators, also bear significant responsibility for fulfilling the brand's promise. But the operators' service partners, like facility management providers, fulfill consumers' needs with regard to the value proposition. A clean building, rapidly cleared snow, and many other things are visible expressions of whether a center is a positive brand. Investors, too, are indirectly responsible, for example through budgets for marketing and advertising and for timely maintenance and repair. A subsistence retail park cannot develop into a brand.
The center management is a brand's main maintainer and developer. It must take care of daily FM operations, marketing activities, and PR and ensure good quality of stay and service and support to tenants, etc. In addition to measures like seasonal decorations, supporting the tenants also means well-crafted sales promotion. This serves tenants' turnover and underscores a retail park's positioning. In addition, the center management also takes care of strategic issues. A brand-appropriate rental concept must be developed and implemented in collaboration with rental management. Furthermore, professional center management on site can identify opportunities and risks for the product and brand early and develop appropriate and timely measures in cooperation with other disciplines. This involves things like competition defense, development opportunities, adjusting the tenant mix, and much else.
Mall marketing offers a good starting point for product policy despite long-term leases. Properly renting the mall areas can achieve added value for the customer and an improved brand experience with additional income, which pleases investors. This also allows you to test whether customers accept a given retail concept. A bit of courage to experiment is very helpful.
When can one create a brand?
The initial, simple, answer is: always. As the explanations above have shown, however, branding is an involved and, especially, a long-term process. For existing properties that are not brands, it is therefore a good idea to connect branding with a visible turning point. That can be a modernisation, expansion, or revitalisation. Such a step is obvious because it offers the chance comprehensively to revise the product core, i.e. its segment and tenant mix, and adapt it to the target groups. Such extensive measures can then include revising consumer-related issues like architectural design, quality of stay, and branding. Key decisions for future rental policies should also be made at this juncture. Modernization and revitalization projects offer the opportunity to lay the structural foundations for fast, flexible, and cheaper space changes in order to respond in re-renting to merchants' ever more rapidly changing spatial needs. The tenant target group will be happy that anticipatory measures are lowering their costs for site development and expansion. This, too, is part of a brand's value proposition.
The theory for retail park branding and brand management seems simple. The detailed, interdisciplinary, and cross-company implementation, however, is a major challenge. Everyone must be willing to tread new paths, take additional measures regarding the brand (rather than just following the path of least resistance), and break away from their own professional perspective in their daily work in order to keep their eyes firmly on the overriding brand idea. The added value a brand brings justifies this!