Volume of completions was below average in 2015, but large projects will be delivered in 2016. Last year, a total of approx. 160,000 sq m was completed; 6% below the five-year average. For 2016, over 250,000 sq m are under construction and 50,000 more are in the permit stage, according to market report "Retail Property in Belgium, Pulse Q3 2015" from JLL. It lists last year's largest completions as Leonardo retail park in Evere, with 18,700 sq m, and be-Mine retail park in Beringen, with 15,000 sq m. On Avenue de la Toison d'Or in Brussels, recently opened Toison d'Or project of Prowinko (12,800 sq m) houses an Apple flagship store as well as Marks & Spencer, Zara, and Bodum.
This year, two completely new shopping centers are under construction, Docks Bruxsel, with 49,000 sq m, and Rive Gauche in Charleroi, with 35,000 sq m. In Hasselt, a new Ikea (39,000 sq m) is scheduled for opening soon together with an adjacent retail park of 6,000 sq m. A 6,000-sq-m extension to Les Grands Prés in Mons is already complete and was combined with a new retail park measuring 12,000 sq m linked to the shopping center. Its grand opening was celebrated in mid-February.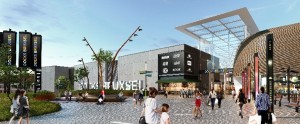 Uplace und Mall of Europe waiting in the wings
Over the longer term, the 80,000-sq-m Mall of Europe in the north of Brussels, part of the redevelopment of the Heysel platform, is in its design phase. There was also good news on Uplace (72,000 sq m) in Machelen on January 22: The Flemish Government has given final approval. This means the launch of the whole re-conversion zone and also of Uplace. Jan Van Lancker, CEO of Uplace, was pleased with the outcome: "This final decision is an important milestone for the project and the entire Canal Zone, which was left in a deteriorating condition for several decades. We can now speak of a definitive 'yes' from the Flemish Government, thanks to which we can finally fulfill our role as a driver for the revival of the entire reconversion zone. If everything goes according to plan, the first brick will be laid in late 2016 and the opening is scheduled to take place two years later, in late 2018."
Booming retail investment
Now, on to the investment situation in the Belgian market. According to JLL, first three quarters of 2015 indicate an exceptional year for retail investment, both in terms of volumes and yields. With total investment volume of €1.2 billion in third quarter alone, volume year-to-date is €1.67 billion, already up more than five times, the first three quarters of 2014. No fewer than four exceptional transactions were registered, involving shopping centers and portfolio deals. The acquisition by AEW Europe and China Investment Corporation, a Chinese sovereign wealth fund, of CBRE Global Investors' Celsius Porfolio was the largest retail investment in Belgium of the last decade. The portfolio includes 10 properties in France and Belgium, including Waasland Shopping Centre in Sint-Niklaas and 50% of Wijnegem Shopping Centre near Antwerp. Of €1.3 billion paid for Celsius Portfolio, approx. €825 million are allotted to two Belgian assets, representing yield of 4.1%. Another mall, Basilix in Brussels, was acquired by French  institutional investor Primonial for €64 million. Recent large transactions also include high street and out-of-town retail. The Constellation portfolio (high street retail in Ghent and Mechelen) was sold to CBRE Global Investors by developer MG Real Estate for €79.6 million at a yield of 5.4%. Developer Equilis sold a retail warehousing portfolio to Belgian private investor Société de l'Argayon for €75 million at a yield of 6.5%.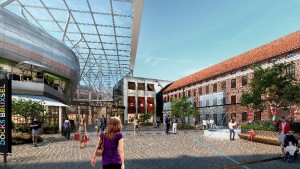 Yields remained stable in third quarter 2015 after compressing in previous quarter due to huge interest in all retail asset classes and categories. Prime high street shop yields are in the region of 3.75%, prime shopping center yields stand at 4.25%, and prime retail warehousing yields are 5.75%.