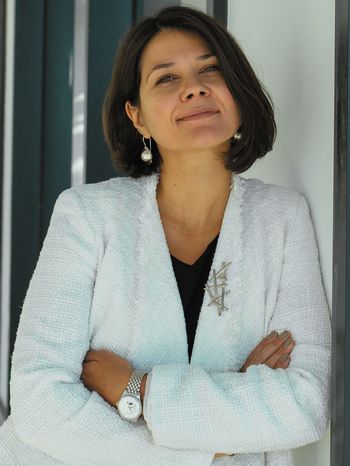 "The best way to encourage footfall is to start transforming and repurposing malls into multifunctional spaces. People are looking for places to spend time together or to work out of the office, and creating a coworking area seems to be the key solution. By placing some furniture, sockets and Wi-Fi connections, developers can provide customers with a sophisticated communal space. In our neighborhood centers, we want to create an atmosphere of comfort where people can access goods and services they need on a daily basis, enjoy entertainment and even work in a friendly environment," says Anna Obraztsova, Commercial Director of the ADG group, which is headquartered in the Russian capital.
According to Catella Research, demand for coworking spaces is generally increasing in Europe. This is undoubtedly less of a product and more of an industrial transformation process. The companies' measurable detachment from long-term commitments to spaces towards short-term rental structures. This, however constitutes a paradigm shift: The drivers of this development are more and more corporates, large companies that establish their own campus structures.
Apart from start-ups and freelancers, the so-called middle class is mostly immune to these trendy options–for now, at least. It is important to mention that this is less about fancy office equipment with an afterwork-beer kicker and more a fundamentally different approach to the use of space and time. Sought-after locations are therefore primarily in or around inner cities, trendy neighborhoods, and business centers.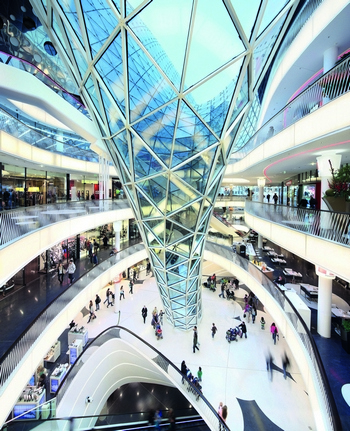 Not yet a trend
At the ECE-managed MyZeil in Frankfurt, Germany, this interplay of working and shopping already exists. CoWorkPlay opened a 300 sq m space on the mall's second floor this past October. This coworking space is adaptable and can accommodate different work scenarios–from meeting rooms with video-call capabilities and an event stage to space for focused work.
"We are very glad that we could win over a local provider from the start-up scene for our house," says Marcus Schwartz, MyZeil's Center Manager.
This is an example of the new shoptainment world emphasizing the connection between traditional shopping and entertainment in the form of pitches, events, or small congresses and symposiums. And office space, of course.
The ADG Group and ECE are pioneers in the field of coworking spaces in shopping centers, since Catella has not seen a corresponding trend–yet. However, researchers recognize the high potential for this kind of symbiosis.
---
Something New: Coworking Spaces in Shopping Malls?
By Vincent Vallois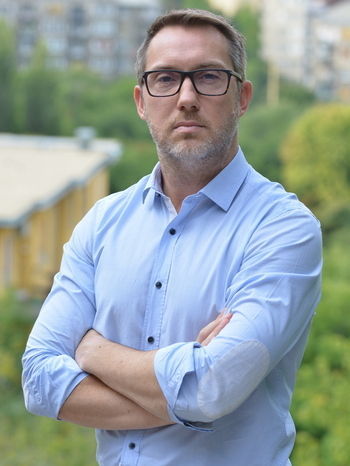 Shopping malls are in dire straits. Major retail centers are closing, even in great locations. You can't fight e-commerce on the internet, so there must be another alternative. It comes in the form of coworking spaces. They are about to save shopping malls from a retail apocalypse. So just what is involved.
Coworking spaces are what they imply: people working together in a flexible physical space. They take several forms from office blocks to private member clubs, and many more varieties. Placing them in an empty shopping mall has a great impact on the economy. Without this new trend, the mall would soon become a dinosaur of the past. It is expected to unfold throughout the world.
The new work environment will be cost-effective for business and likely stem the tide of on-going bankruptcies. Investors in malls are no longer in a panic as they see a new source of income on the horizon. They will face a wide variety of tenants with individual needs that must be addressed. We may well see the beleaguered mall survive in the next decade.
Why a shopping center? The answer is very simple. There is ample space at a fair cost per foot. Rents are decreasing across the globe from Hong Kong to the Netherlands. The UK and Australia are showing falling revenues in shopping centers as a result. No one is immune.
It has taken some creative thinking because the usual amenities like cinemas, restaurants, and bowling lanes are no longer enough to bring in new retail. Closures still make headline news. When the big guys dropped out and pulled their chain stores, a disaster was in the making. Thankfully, the idea of coworking spaces is here to save the day.
What are coworking brands? It has already begun: a major mall like Westfield is developing its own coworking brand. In San Francisco, California it rented an entire fourth floor under the name Bespoke for a mixed-use cohabitation of retail and business. It is its own retail-tech ecosystem. Corporations and startups alike find everything they need to thrive including artificial intelligence and virtual reality technology. Smaller enterprises can now compete with "big box" retailers. The retail landscape is being transformed year by year. Pilot programs have proved successful for coworking, boding well for the future.
Investing in its own coworking brand is the next step in the process for ambitious entrepreneurs. Surprisingly, supply is already poised to meet demand. Businesses are increasingly outgrowing their spaces or seeking cheaper alternatives. Another brand of note is in Moscow called Atmosphere, featuring an enormous multi-use conference center. It is becoming clear that coworking is in its early development stage but already launched in strategic locations, promising great investment opportunities. When renters are willing to take space on an often-unused top floor, the prospects are endless.
Shopping malls are usually in great locations, and you can find them in coveted city centers where renters are flocking to capture emerging markets. Coworking in such areas is the wave of the future. Employees and management can enjoy multiple amenities like supermarkets, food courts, and movies right inside their complex. Commuting time is cut drastically, and the stress reduction is having a positive impact on productivity.
Bespoke and Atmosphere are but a few of the success stories and occupancy is steady. Private offices mingle with open areas for pop up stores and freelancers. Startups and innovative concepts are making the old shopping mall a transformed experience, full of creativity and energy. Time will tell if shared spaces work in the long run.