And with its rooftop leisure, sporting, and recreational zone and trendy food court the building, which is innovative in both technical and architectural terms, also gives space back to the city.
A design concept under the sign of the dragon
Slovenia's most state-of-the-art shopping center can be read as a homage to the city of Ljubljana, because the architectural highpoint of the elongated building is its façade: diamond-shaped stainless steel tiles imitate the scales of the dragon – the heraldic animal of Ljubljana. These shimmer in a range of tones and finishes and dynamically alter the appearance of the expressive building envelope with each glance, step, and change in the weather.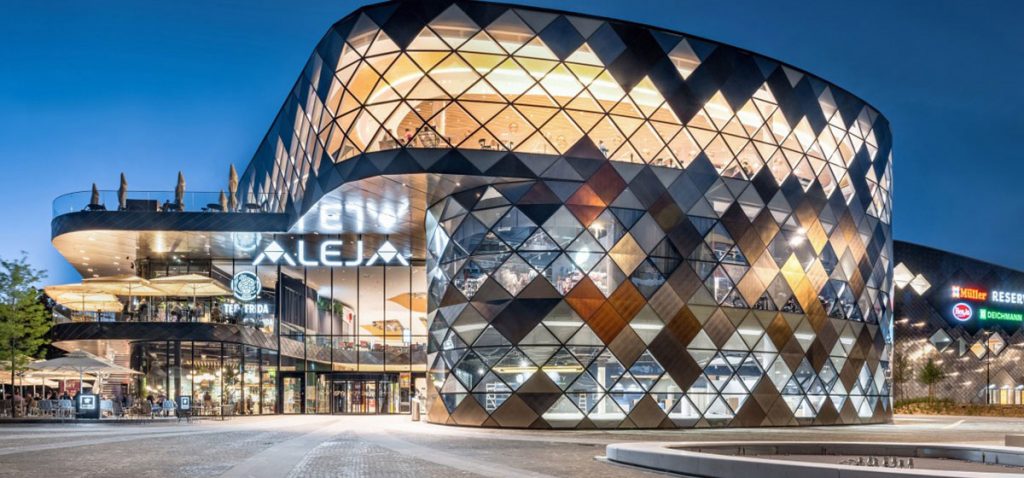 The use of the latest design technology enables this high-quality retail architecture to continue throughout ALEJA, inside and out. The district center has two basements, a ground floor, and two upper floors. The mall is finished with high-quality materials such as natural stone and is flooded with daylight. Areas of planting, water games, fountains, and places to sit and rest awhile turn the center into a dynamic urban square for all its visitors.
Energy-efficient and sustainable
The selection of the glazing and other surface materials pays close attention to the twin requirements of minimizing energy loss to the outside and excess heat gain to the inside, which would naturally lead to inflated heating and cooling requirements. And the rhythm of open, semi-open, and closed elements in the diamond-shaped glazed and tiled structure of the façade is responsible for an additional experiential effect: When the sun shines into the building or clouds pass by, dramatic shadowy patterns appear on the floor.