Enjoy "ACROSS – The European Retail Real Estate Magazine" on your tablet or smartphone – however and whenever you want to. You always want to be up to date on the latest developments in the retail real estate industry? You want to read about the latest projects of the outlet, shopping center, or retail park sector easily and comfortably on your phone? You want to catch up on the most exciting interviews with the most important industry leaders whenever you feel like it? No problem. There is a perfect solution available for from the end of June 2019 onwards.
Please use the voucher code Across for free access until the end of November 2019.
Please note: You do not enter into any binding commitments by using the ACROSS ePaper for free during the test phase. Enjoy reading the ACROSS ePaper.
HOW TO GET IT
Go to the Google Play Store with your Android smartphone or tablet or go to the App Store for iPhone and Apple.

From there you can install the ACROSS Magazine App for free on your device with just a few clicks.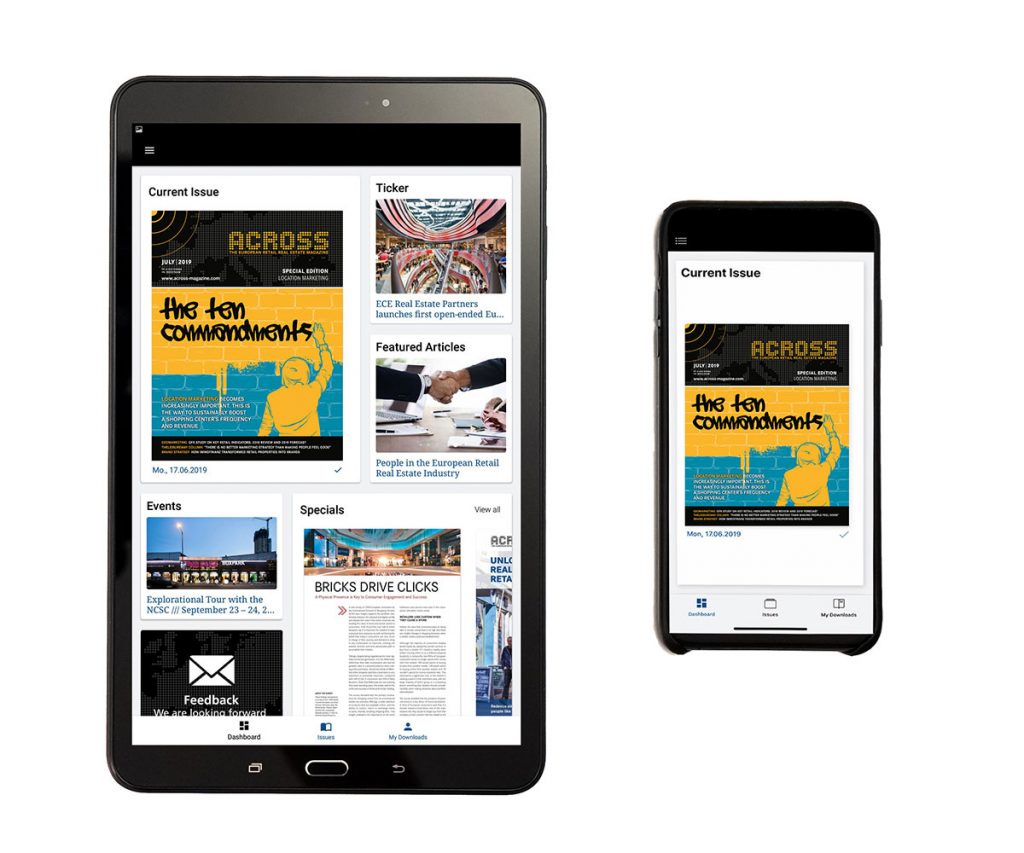 ADDITIONAL FEATURES AVAILABLE WITHIN THE APP:

Offline mode: Once you downloaded them, you can read the latest news and your ePaper issue anytime even when you do not have access to internet – when you are on a plane or train, for example.

Integrated ticker function: all ticker notifications and news of our website are also included in our ePapers.

Archive function: Browse through our online archive and get access to all previous print issues since January 2018. You an also look for specific articles and topics of your choice in our archive with a quick keyword search.

Comments: Your ePaper issues include a feedback button. Comment on any article or contact us via this button.

Individual font sizes: Adapt an article's font size to your personal reading preferences.

Sharing content: Recommend interesting articles and interviews easily via Facebook, Twitter, WhatsApp, SMS or e-mail.

Read-Aloud mode: The ACROSS app also includes a very straightforward Read-Aloud mode.
You can already download the latest issue of "ACROSS – The Retail Real Estate Magazine", even before its print issue is published. Once you downloaded the ePaper, you can read all the latest news as well as your ePaper issues at any time and even without being connected to the internet.
The ACROSS ePaper is clearly structured and easy to use. Enjoy the advantages as well as the familiar layout of our print versions. Additional news, ticker notifications, and interviews keep you up to date with the latest news from the retail real estate industry as soon as they become available.