Emerging markets, particularly in Asia, have continued to dominate the shopping center development pipeline, with over 39 million sq m under construction at the end of last year. China accounted for over 60% of the pipeline, with Russia, Turkey, and India also boasting significant space under construction, according to the latest research from the global property advisor CBRE.
Shanghai on top
Shanghai tops the ranking for most new space under construction with 4.1 million sq m, with the list of the top five most active markets completed with Shenzhen (3.4 million sq m) in second place, Chengdu in third (3 million sq m), Chongqing in fourth, and Guangzhou in fifth. Together, they have more than 20 projects in the pipeline. The supply of new development in China and India is at risk of slowing down, however, due to their economies and mounting financial pressures on landlords. Construction of some shopping malls is already on hold due to lack of funding and, in some cases, landlords are considering adapting the schemes to other uses.
Europe accounted for 20% of total completions in 2014, with Russia and Turkey continuing to dominate the new development pipeline.  Moscow was the most active European city in 2014. Notable schemes completed include the Avia Park, which is currently Europe's largest shopping mall, totaling 231,000 sq m of gross lettable area (GLA). Istanbul saw the addition of eight new shopping centers totaling 440,253 sq m and has one of the largest development pipelines in Europe. This has been led by the easy availability of credit in the Turkish market, which has fuelled consumer spending.
Abu Dhabi to strengthen its position

In the Middle East, Abu Dhabi continues to strengthen its position as a leading retail destination with the completion of four new centers, including the Yas Mall on Yas Island, with space for 400 shops, a 20-screen cinema, and 10,000 parking spaces. Paris was once again the most active market in Western Europe, though with only one center opening in 2014.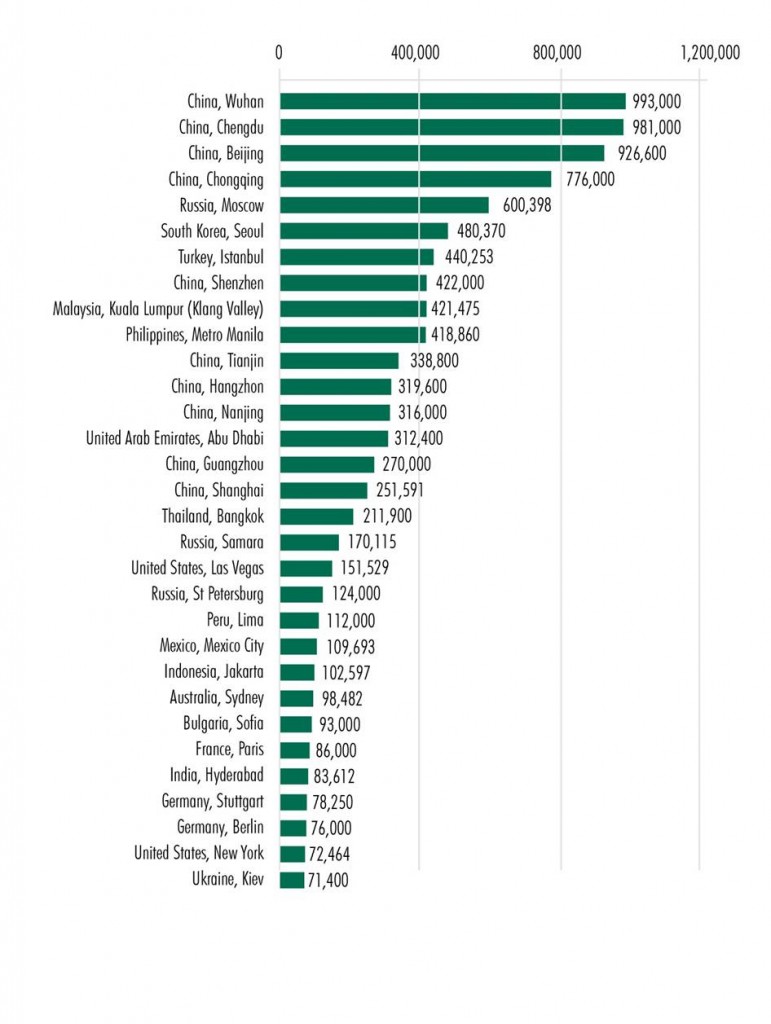 Natasha Patel, EMEA Retail Research, CBRE, commented: "The factors driving the development pipeline of new space remain largely unchanged compared to last year in terms of location, with new construction dominated by Asia and, in particular, China. Other influences include a growing middle class population in emerging markets, the urbanization of large cities, and a lack of high-quality retail space required by cross border retailers. Western Europe and the US continue to suffer from a lack of new development and extensions and refurbishments of existing centers will be a key focus in a bid to continue to attract key retailers and consumers."