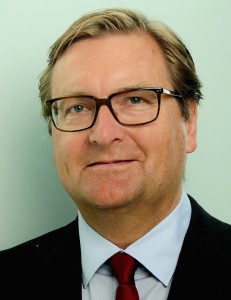 In an interview with ACROSS, one of its managing directors Martin Mörl reports that the company is strengthening the activities in Germany and is preparing to take a step (back) into Poland.
ACROSS: Tell us a bit about Prelios.
MARTIN MÖRL: Prelios Immobilien Management GmbH in Hamburg is basically an evolution of the Italian firm Pirelli Real Estate, which entered the German market in 2006 by purchasing the former DGAG platform. The company's specialty today is on integrated development and management services for commercial, especially retail properties in Germany.
ACROSS: What services do you focus on?
MÖRL: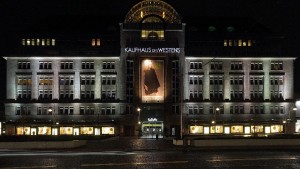 We cover the entire property life cycle of shopping centers and highstreet retail assets. This ranges from the identification of projects for investors, concepts, buy-side advisory, developments and refurbishments, letting and ongoing center management. We also offer transaction management. This is because we have not actively taken part in any investments of our own in recent times, although we do have considerable prior equity investments. I imagine that Prelios could begin investing again in the near future by developing a retail funds.
ACROSS: What is currently happening for Prelios as regards development?
MÖRL: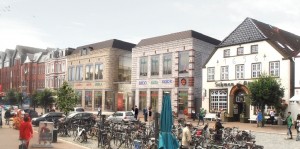 We are working on a project in the North Frisian town of Husum, a touristic centre close the North Sea. A mall named "Husum Shopping Center" is going up there in a prime, downtown location. The current plans envisage a retail space of 12,000 sq m and a three-story parking garage with around 700 spaces. The concept provides a site-specific tenant and product mix with about 40 stores, including gastronomy, fashion, supermarket, drugstore, accessories, services, and health. The pre-letting is going well. The opening is planned for 2018. Husum Shopping Center's particular focus is on a high quality of stay and seamless integration with the surrounding port city. After opening, Prelios will take over the Center Management.
Prelios is currently developing "Husum Shopping Center" in the city center of Husum, close to the North Sea.
ACROSS: What objects would you like to show us when it comes to center management?
MÖRL: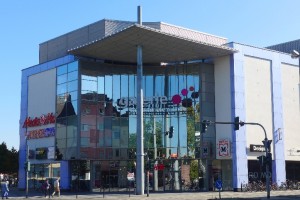 For instance the Lago in Constance, Baden-Wuerttemberg, which is owned by Union Investment and managed by us. The 27,500 sq m shopping center was named the Best German Mall by the "Shopping Center Performance Report 2014." The region around Constance is very affluent; not just on the German side, but also within Switzerland. I would also mention the shopping center Galerie Neustädter Tor in Gießen, Hesse, which we are managing since last October. The mandate covers the repositioning of the shopping center, its management, letting, technical and commercial property management, and the operation of the parking garage. The six-story shopping center was built in 2005. It covers around 32,200 sq m of rental space and 1,060 parking spaces. For a few months longer, specifically since February 2015, Prelios is responsible for the center management, leasing, and commercial and technical property management of the Schlossberg Center in Marburg in Hesse. That mall has 12,200 sq. m of rental space. Our objective is to raise the potential of both assets.
Prelios is managing Galerie Neustädter Tor in Gießen, Hesse, since last October.
ACROSS: What needs to be done at the Schlossberg Center and Galerie Neustädter Tor?
MÖRL: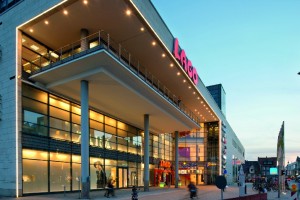 They perform currently considerably less well than Lago, but Lago is an exception. Galerie Neustädter Tor has upstairs vacancies. Accordingly, the owners asked us to reposition both shopping centers. It's about a holistic optimization, from the signposting system, to marketing campaigns, to the interior and exterior design. Repositionings like these are a big issue in Germany, since hardly any new projects are being started in this saturated market. The aim is to refurbish old-fashioned malls to bring them "back on track". Here the growing competition from online retailing also comes into play. In addition, food courts and individual restaurants were not as important 10 years ago, as it is without a doubt today.
Lago in Constance, Baden-Wuerttemberg, is owned by Union Investment and managed by Prelios. The 27,500 sq m mall was named the Best German Mall by the "Shopping Center Performance Report 2014."
ACROSS: What makes a good foodservice offer in a mall?
MÖRL: The main aim is to increase the quality of stay. To be honest, a much-quoted phrase, but the gastronomy offer must be specific with local and regional concepts to create a positive and unique atmosphere were costumers like to eat and stay. Gießen, where Galerie Neustädter Tor is located, has few gastronomic highlights. That fact represents one opportunity for the downtown shopping mall to be extended.
ACROSS: Speaking of downtown: You are primarily active in downtown locations, right?
MÖRL: Yes, we see ourselves as a kind of champion of district and city centers. In this regard, I want to mention Bahnhof Altona Shopping in the middle of the western district Altona in Hamburg. It's a former Kaufhof department store that closed in 1999, which we've purchased and completely refurbished. The 16,000 sq m mall, which is right next to the Altona train station, has been performing fantastically for over 10 years. By this central development the whole property environment was improved and further projects were initiated.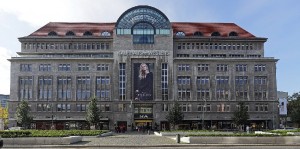 The KaDeWe premium department store in Berlin, a former Highstreet-Portfolio asset, that Prelios sold to Signa in 2013.
ACROSS: Prelios is also involved in the famous KaDeWe in Berlin. In what function?
MÖRL: KaDeWe was part of the so-called Highstreet portfolio, for which Prelios took over the asset, property, facility, and transaction management in 2008. We have an approximately 12% stake in that very large portfolio which includes many Karstadt department stores. The KaDeWe, which is the best department store in Germany, we sold in 2013 to the Austrian Signa Group together with other Karstadt assets.
ACROSS: What do you think the future holds for department stores like KaDeWe?
MÖRL: Karstadt, for example, is definitely on the right track with its remediation strategy. After its change of management two years ago, Karstadt has gone "back to its roots," which is a good thing. That means that catchment areas are being considered, assortments are more local, and that services have been revamped. It would be extremely unfortunate if department stores departed from the retail scene. It's clear that they have to fight in the face of competition from shopping centers and online retailing, in particular. Department stores in general need to go to great lengths to be successful.
 ACROSS: What trends do you see more generally for the retail real estate market?
MÖRL: We see that investment expertise is increasingly in demand. More and more international players who do not have their own investment teams are turning to us. This involves issues such as how sustainable rents are, how well the center management is running, what risks there are, and what bottom line price is appropriate for a property.
ACROSS: Is Prelios thinking about expanding outside of Germany or Italy in the near future?
MÖRL: Our parent company, Prelios S.P.A. is headquartered in Milan. We are restarting activities in Poland from Warsaw as this is an interesting and growing market. We would offer the same spectrum of services there as in Germany. Poland is extremely attractive thanks to its economic fundamentals.
ACROSS: Do you have a concrete project in the pipeline in Poland?
MÖRL: Not yet. We are scouring the market and building our team in Warsaw. It already consists of 10 people.