Uplace Brussels blends more than 300 shops featuring 81,000 sq m of stores, cosmopolitan bars, and restaurants; 52,000 sq m of international prime office space; 19,500 sq m of recreation facilities such as a deluxe cinema and theater; a trendy, 180-room lifestyle hotel; and 6,000 parking spaces. These dimensions make the project into one of the largest shopping, entertainment, and experience destinations in BeNeLux.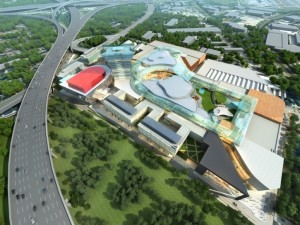 Located in the heart of Europe and Belgium, Uplace Brussels serves one of the country's most affluent areas. The project intends to offer the best of all worlds, with the bustling capital of Brussels just a stone's throw away and the city's international airport sitting on its doorstep. The scheme will also be very well connected to several highways and modes of public transportation. The Flemish transportation company De Lijn recently announced its plans to build a new tramline between Jette and Tervuren with a stop next to Uplace Brussels. In addition, there is an agreement with De Lijn to provide a dedicated bus stop there. Finally, NMBS/Infrabel has agreed with the plans for a new railway station 200 m from the entrance, connecting Uplace with the different high-speed train lines in Belgium. For people visiting by car, a special beltway exit will be installed.
For all generations
Since the start of the commercialization process at the end of 2012, more than 50% of the scheme has been signed up for, including a mix of players new to the Belgian market and innovative Belgian and international retail brands. For food and beverage, a wide range of exciting food experiences from all over the world has signed up for the project. Finally, a Family Zone will take shape, with playgrounds, a day care center, and an adventure park. The Uplace lifestyle concept is a result of years of in-depth research with a team of premium experts. The result should be a one-stop shop for all generations. Construction is set to begin in 2016. The opening should then follow two years later.
Facts on Uplace
Type: Mixed, all-in-one project, periphery
Developer: Uplace
Architects: Benoy / Jaspers-Eyers & Partners
Area (retail): 81,000 sq m of GLA
Inhabitants (within 60 min): 8.4 million
Planned opening: 2018