By Caroline von Westerholt
Concentrating on an identity-matching combination of mutually stimulating tenants and uses is essential for stepping out of paralyzing mediocracy. Clever identity-driven B2B concepts will bring the real structural change that is needed to permanently frequent urban areas.
Consumer beliefs, desires, and shopping behavior have changed rapidly and massively over the last years. Fighting against this change is an up-hill battle that cannot be won, as behavioral science has taught us and reality reminds us every day. So, what to do then? If we look at the individual behavior, it turns out that the biggest changes occur from a contradiction: the desire of hyper-individualization and simultaneous identification with a community of like-minded people.
Three consumer demands can only be met by physical real
Brands are constantly trying to satisfy the consumers' wishes to express their own individual personality and simultaneously presenting it to a group of like-minded people with whom they want to identify themselves. To many of the consumers' desires, the brands have found really clever answers.
For example, the limited Nike trend shoe can only be customized by members of the Nike community today and Etsy offers high-quality products from unknown brands from all over the world. They are displayed on Instagram or Pinterest for like-minded people to see and thus become global trends in a few weeks or even days.
The brands and new players of today's and tomorrow's industries take care of many of the ever-changing customer wishes with great new ideas and concepts that are quickly adapting to the consumers' wishes, but there are essential demands of our consumers that can only be met by physical real estate: 1. Meet, feel, smell surroundings and people. 2. Haptic product experiences (test, try, and discover product innovations). 3. Create highly emotional occasions that are perceivable with all of our senses.
Real estate needs to confirm the triangle of tension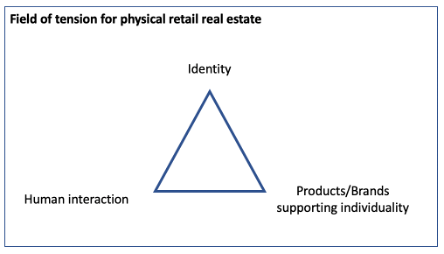 All of our senses want to be used and ultimately are the key to real emotional experiences that bond us to very special moments and products.The power of and tristesse caused by the absence of this human desire was shown particularly clearly by the restrictions imposed by the protective measures against corona. This is good news for physical real estate, but only if we make the right conclusions.
Physical real estate needs to confirm the field of tension of identity–human interaction–and products/brands supporting individuality. Within the triangle of tension, identity plays a major role. Only physical interpersonal experiences are forming and strengthening human identities.
Identity-driven consumers are searching for places to interact with people and products in an environment that supports their identity or even is part of their identity development.
Skip mediocrity – built real identity
There are very good examples that play this role perfectly. Think of the perfumery at KaDeWe, the elegant grand dame of German department stores. Smelling, trying, discovering new products in a manorial environment supported by perfectly trained shop assistants. Or entering a Ladurée shop creates the impression that even pastel colors are smelling like delicious macarons. Even small cities like Ulm in the southern part of Germany are magnets for consumers as they constantly care for their unique atmosphere. Whether store, quarter or city–what they have in common is a strong identity, which they constantly care for and market well.
As landlords we need to dare having a clear vision and focus on our location identity. Concentrating on an identity matching combination of mutually stimulating tenants and uses is essential for stepping out of paralyzing mediocrity. We need to overcome the fear of losing tenants that might dislike our aspired vision. By not having a clear vision we will lose them anyways. The more we perfect our identity, the more the fitting tenants will see the advantage of renting up our locations to strengthen their own identity and visibility.
So, skip mediocrity! Build up a clear vision of your location's identity and strategically market it to potential brands that match and reinforce the desired image. It's a question of identity-driven B2B or–well–not 2B.
---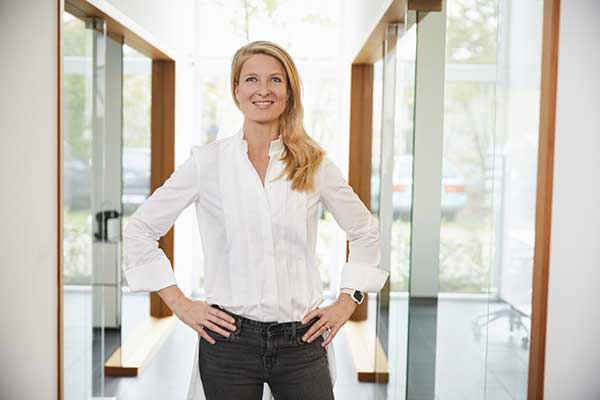 About the author

Caroline von Westerholt has master's degree in real estate economics and is the Head of Strategy & Repositioning of Retail Real Estate at Twenty One Media GmbH (Germany). Prior to that, she spent nine years as Director of Development for Urban Districts at MAB Development GmbH and five years in Asset & Portfolio Management for Commercial Real Estate at Provinzial Versicherung.