Jan Kotrbáček, Partner & Head of CEE Retail Agency team, Cushman & Wakefield comments: "Physical shopping remains an important part of the retail environment despite all the problems and changes that the coronavirus crisis has brought. Czechia is still the key market for the entry of international brands into the Central and Eastern European region."
Fashion first and foremost
The fashion segment accounts for approximately 40% of the retail market. A total of 18 fashion brands across all segments came to the country last year (among others): in the luxury segment, Versace opened in Pařížská Street; the German Anson's in the Westfield Chodov shopping center and Manuel Ritz in the Myslbek shopping gallery (both focusing on men's fashion); Falconeri, Italian purveyors of cashmere goods opened in Westfield Chodov, Hungarian Sugarbird in the Černá Růže passage, and German Hiltl in the Premium Outlet Prague Airport.
Jan Kotrbáček says: "In June, Primark opened the first and largest high-street shop in Central and Eastern Europe in Prague's Wenceslas Square. They also plan to launch its second shop on the Czech market in Brno this year. The brand will also tap the Slovak market with a shop slated for opening along with the extension of the Eurovea mixed-use scheme in Bratislava."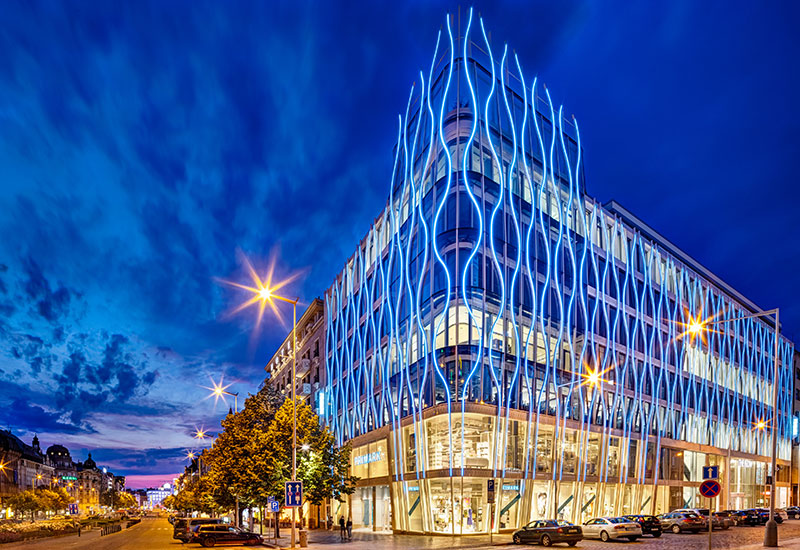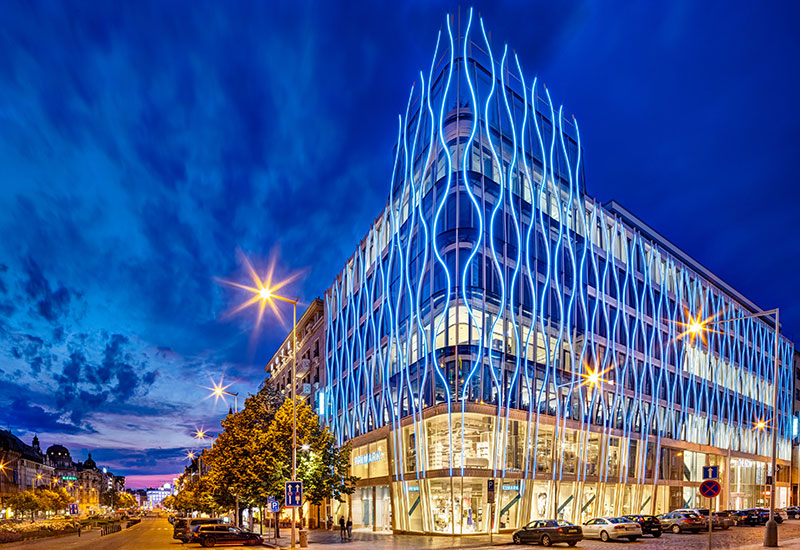 Kotrbáček comments on the current trend of merging online and offline worlds: "The strategy where brick-and-mortar stores are combined with e-shops is currently key for retailers. The pandemic has shown us that e-shops are not a threat to physical retail – in fact, they complement it perfectly. This approach will become a must for brands to keep up with the competitive environment."
Leisure and food
The leisure and food segment has been severely hit by the anti-pandemic measures over the past two years and will need more time to recover. Despite that, new concepts are entering the market: for example, Slovak Cinemax opened in the Olympia in Olomouc and we are seeing a boom among fitness concepts. Leopark, Polish children park operator brings entertainment for children in Centrum Černý Most, and Majaland, the largest indoor entertainment park in the Czech Republic.
Brands target primarily Prague's shopping centers
As was the case in the past, fashion brands accounted for the majority of the newcomers (12 clothes retailers, five accessories and shoe retailers, and one sports clothes retailer), followed by food concepts (seven brands). The household equipment and electronics segment has also grown because people spent more time at home during the coronavirus crisis. New market arrivals in this segment include Swedish Asko electrical appliances, Russian textiles retailer Cozy Home, Polish Klimas Wkręt-met hardware stores, American Sonos premium audio equipment, and YellowKorner, an art shop from France.
The greatest number of brands and concepts came to the country from Poland (7), followed by Germany (4), Italy (4), and the UK (3). Most brands opened their first shops in Prague (32), with others in Brno and Karlovy Vary.
The highest number of shops (22) opened in shopping centres, with the most popular destinations for new brand arrivals being Westfield Chodov (6) and Nový Smíchov (4). Eleven brands opened in high street locations in cities, two in office schemes, two in outlets, and one in a retail park.
"The high number of new brand arrivals does not translate into an increase of the total retail area. The existing occupiers still tend to reassess and optimise their retail networks, which may lead to reducing the number of shops while focusing on more dominant and higher-quality premises. Quantity is being replaced by quality," adds Kotrbáček.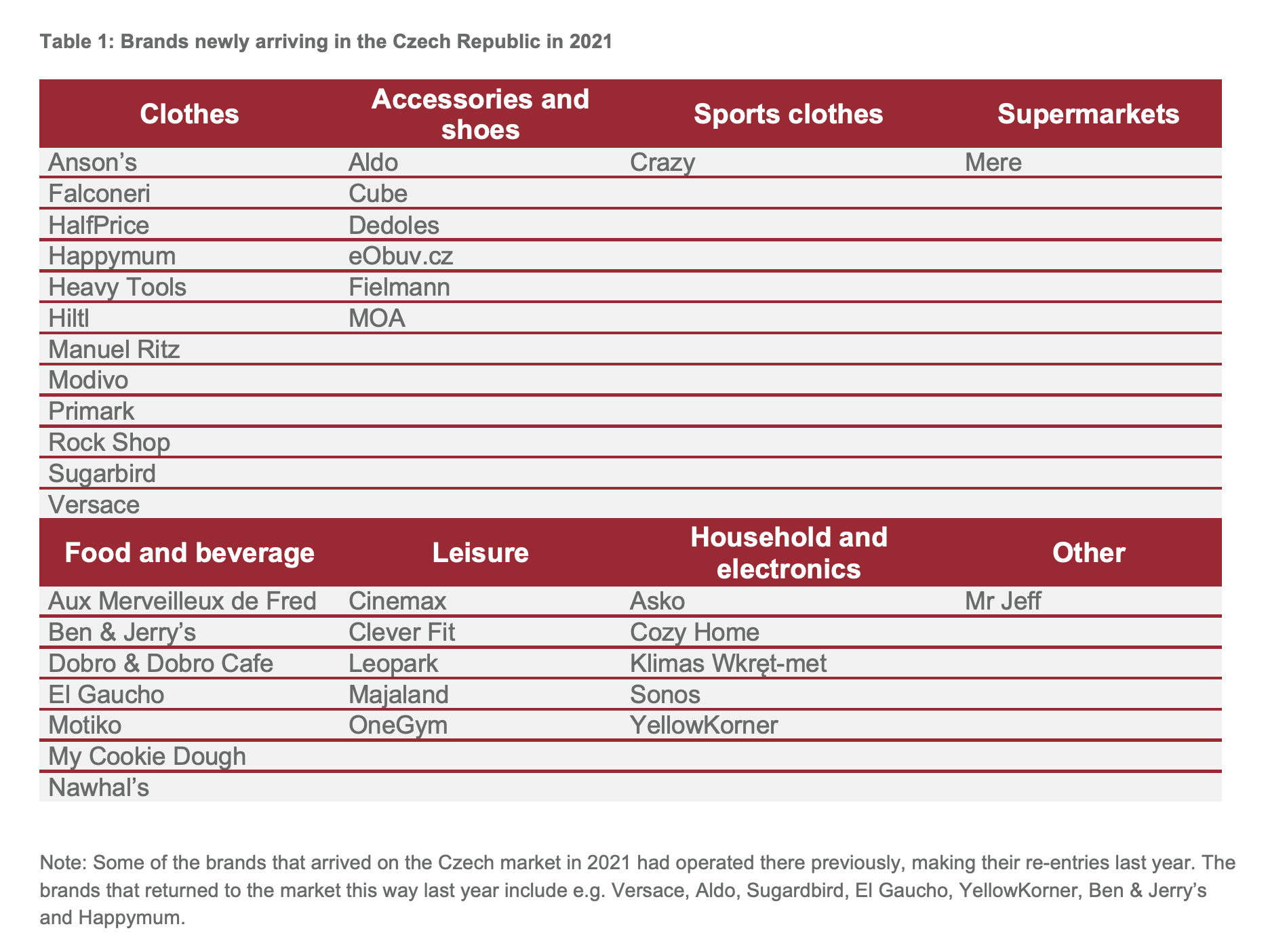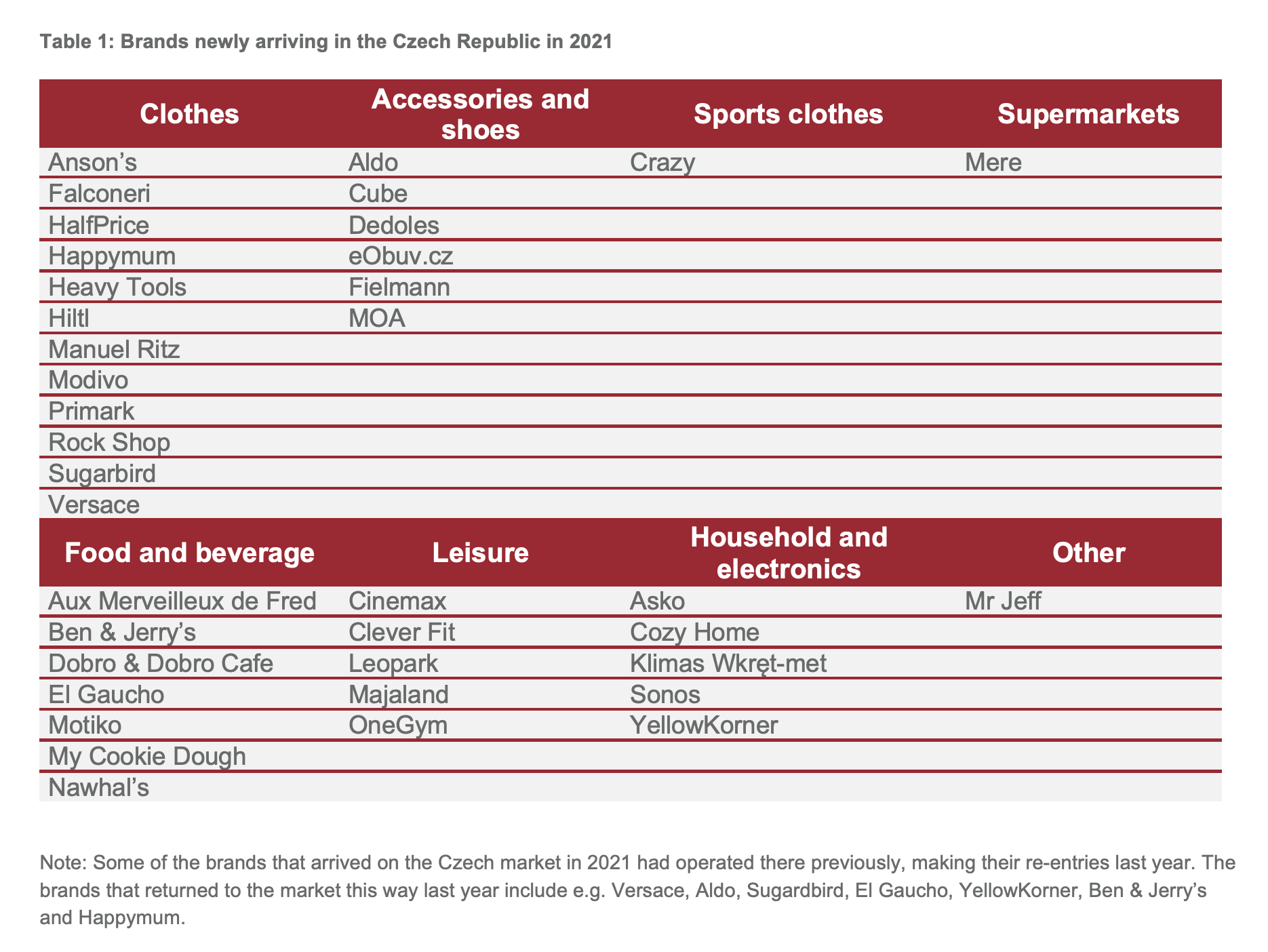 Temporary pop-up stores
In addition to the aforementioned 38 newly arriving brands, we noted an increase in the number of pop-up stores last year. The concept allows a brand to open a shop for a shorter period of time, and many such shops are already prepared, requiring no major investments in fit-out. For new brands, a pop-up store is an opportunity to test the market and customers' response to their products while providing a powerful marketing boost for the products and the brand itself.
In the preceding years, pop-up stores proved successful for brands such as Vasky, Salamander and IKEA. Outlet centers are among the most popular locations where retailers can test their shops.